Directed by DFA's Jed Dupree - Head Foil Coach
Jed was a 2012 US Olympic Foil Coach at the London Games. He began his coaching career in 2007 after seven years as a member of the US Men's Foil National Team. As a competitor, Jed was a 2004 Olympian (earning a team 4th place finish in Athens), a two time National Champion, and an NCAA Individual Champion while at Columbia University. He was a bronze medalist at the Senior World Cup in La Coruna, Spain and a team Gold Medalist at the Pan American Games.  As a collegiate competitor, Jed was an All-American and All-Ivy fencer, the winner of the Connie S. Manniaty Award for the most outstanding senior athlete at Columbia.
Jed began coaching Men's Foil National Team member Race Imboden at the age of 14 and coached him to a top 8 finish at the Senior World Championships, a bronze medal at the Paris CIP World Cup, an Olympic berth, and a Senior World Ranking as high as 4th in the World. He has produced Senior, Junior, and Cadet National Champions in addition to Senior, Junior, and Cadet World Team Members. His students have earned medals at Cadet, Junior, and Senior World Cups.  Jed is currently the Foil Coach at Harvard University.
Monday, Wednesday 5 - 8
Saturday 12 - 4 plus...
Starting September 2018 "Travel Team" add-on includes practices with Head Coaches on Thursdays 5 - 8 and Sundays 11 am to 4 pm at DFA.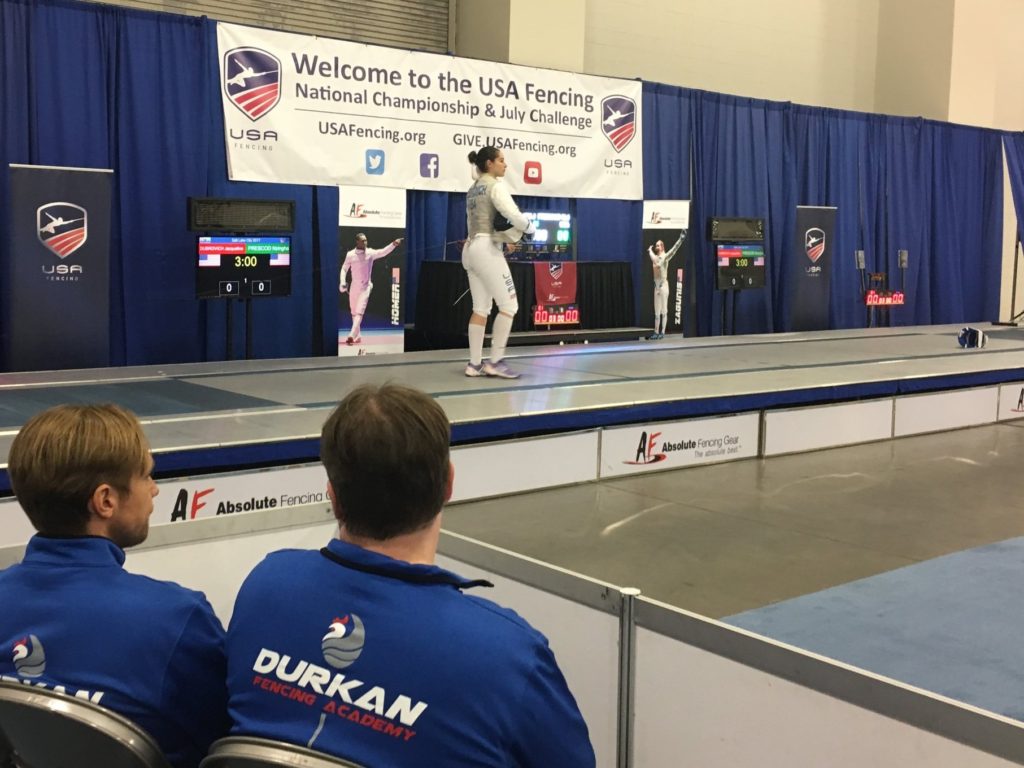 Specialize in Foil
This program is directed by Head Coaches and administered by certified fulltime coaching professionals available at two locations. This proprietary program provides a unified method of fencing instruction that results in enhanced athletic performance at all levels. It promotes the mastery of specific skills through a deep understanding of the techniques and tactics required to score points and win bouts. Its successful proven record leverages the best of the Hungarian, Russian, Polish, and Italian fencing systems while focusing on neuromuscular development for increased performance.
Centrally located, we offer free escort service from Veteran's Park E.S., Boys and Girls Club, and E.R.M.S.; members have the added value of access to the club starting at 4 pm. High school students can take the bus from RHS.
The Foil
The setting is eighteenth-century France.  You've been challenged to a duel: choice of weapon, the gentleman's short sword.  A time and place are set.  The duel is not a battlefield where war is waged but a fight for honor with clearly defined rules and etiquette.  The duelists' may fight to the death.  Just as daunting as the fear of dying is the thought of dishonoring yourself and your family by a show of cowardly behavior.
As a weapons form, the modern foil is a metaphor for order, self-control, and personal discipline.  A specific set of rules govern the fencer and require him to engage in purposeful and logical tactics to defeat his opponent.  Brute force is not used here. Rather, the foilist stands poised and, with a clear vision and a plan, is ready to attack and counterattack. The foil is often the primary training weapon for beginner students as it serves as the basis for all the other forms requiring an equal balance between athletic prowess and strategic thinking. 
Our Fitness Facility & Professional Trainers by Results Fitness
Training in group classes serves to teach and reinforce instruction, improve students' agility, promotes fitness, and teaches students to be autonomous fencers. We instill the love of training in our students by making it enjoyable and rewarding as opposed to punitive. It takes years to develop an athlete and we know our role in teaching students to honor themselves through self-care and self-advocacy. By instilling the value of hard work and self-respect, we not only improve students' performance on the strip but equally their behavior for life.
This conditioning program is offered on Monday & Wednesday 5:30 to 6
Saturday 12 to 12:30
Discounts for parent personal training as well.
Youth High-Intensity Interval Training by Results Fitness example. 10 minutes out of 30 shown.