After School Club and Team Practice
An on-site/off-site fencing program for developing school-based clubs and teams. 
This fencing program is designed to develop boys and girls school-based clubs into varsity teams. Open to middle school and high school students interested in learning and eventually competing and representing their school in competitions.
The program starts Sept. 16 and runs every Monday and Friday from 3:30 to 5:30. Parent volunteers are wanted to help with launching this initiative.
No fee for the month of September.  Come try us out and learn more about the future of school-based fencing. Starting in Oct. the program fee will be $200 a month to cover facility, equipment and coaching fees.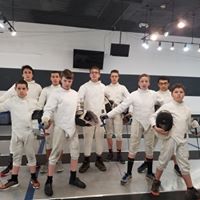 Fences attending practice on a regular basis for four months will begin competing at their skill level as early as  February 2020.
In those four months students will have learned and been able to demonstrate the following:
Salute
Basic footwork (advance/retreat)
Basic offensive action (lunge)
Basic defensive action (parry riposte)
Armoring up (much more complicated than you realize)
Basic fencing strip etiquette
Intro to electrical scoring equipment
Interested? We would love to hear from you?